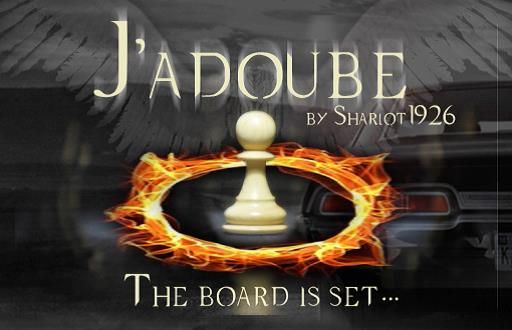 Title:
J'adoube
Total Word Count: 50k words (there abouts)
Characters: Dean, Sam, John, assorted canon and OC characters (OC's are supportive only).
Category: General Fiction, Family, Hurt/Comfort, Pre-Series, Dean is 14, Sam is 10
Rating: PG-13
Warnings: Language
Spoilers: Assume spoilers through S5
Notes:
This story is extremely Dean-centric.
Summary:
The Winchesters are unwilling pawns in an apocalyptic game between Heaven and Hell. It's White's move, and they aren't playing fair.
Beta'd by:
Emmessann
and
Sue Pokorny
My gratitude to these gals is boundless.
Artwork by:
Sue Pokorny
Acknowledgements:
My thanks go to
Numpty
and
jennygeee for being my guinea pigs and consulting on Chapter One. Thanks to
nong_pradu for her support. Biggest thanks of all go to my husband, Brian, for helping me post to LJ and for putting up with the crazy. Kk…kk…more!
----------------------------------------
----------------------------------------
-----------------------------------
For PDF, EPUB, MOBI versions, head over to AO3:
View at AO3
or choose a chapter to read here:
| | |
| --- | --- |
| | Released |
| | Released |
| | Released |
| | Released |
| | Released |
| | Released |
| | Released |